Email Stationery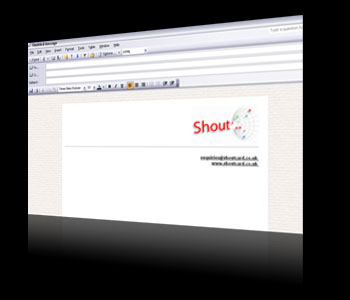 If you use Outlook or Outlook Express, you can send emails on your own companies letterhead.

This provides a professional letterhead for your email correspondence whilst ensuring reliability and extra feedback about your emails.
You wouldn't dream of sending letters without using your company's pre printed stationery. Now you can send your emails on your company's stationery reliably and cheaply.
We include a direct link to click on your company logo and visit direct to your web site, and where an email address is shown on the letterhead a single click is all that is needed to send you an email.
You provide us with your letterhead, (scan & email, or post us a sample) . We can even lift artwork from your website if you like! We will send you a proof, and once approved, we provide a self installing download which will incorporate your letterhead into your emails, giving all your correspondence a professional look. You can of course still send plain text emails where appropriate. All this for a one-off payment of £99!
To order please click this link and select 'add to cart'. Payments can be made by all UK credit or debit cards.If you wish to pay by cheque or Bank Transfer via Internet banking then email us for details. A full invoice will be provided. Pro-Formas are available if needed. Full instructions are provided.
Signature blocks can also be provided. These can be a combination of name, job title, phone, mobile, office, fax, web together with a real script signature if prefered. Signature blocks are £10 each where required.